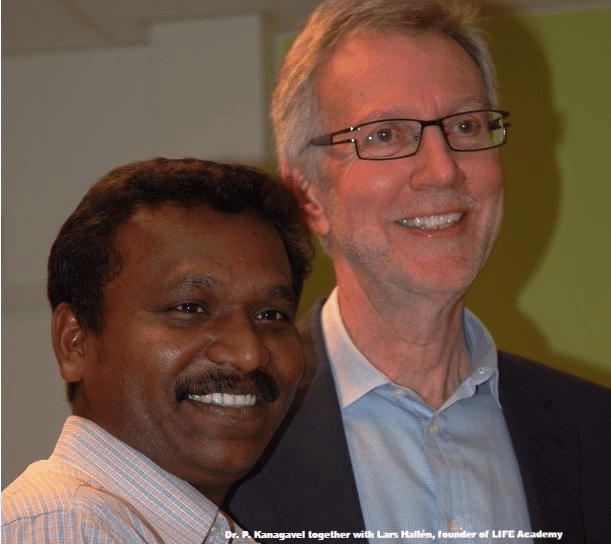 We are proud to announce that Dr. P. Kanagavel from India is the Change Agent of the Year 2016.
Dr. P. Kanagavel was part of the LIFE Academy international training program on Wind Power Development and Use in 2011. He is selected as the Change Agent of the Year for his long, persevering and focused work to contribute to sustainable development in India and internationally in the area of renewable energy.
As the Change Agent of the Year Dr. P. Kanagavel will get 1000 US dollars to use in a project that he chooses. The purpose is to encourage the ongoing work for sustainable development that results in true value for his organization and country. It is also to show a good example for others to be inspired to take action for sustainable solutions – to show that it is possible to make development happen that can improve the environment and living conditions for everybody.
There were several nominations for Change Agent of the Year and we want to thank everybody for nominating Change Agents. It has been a challenge to make the choice since there are so many skilled and inspiring Change Agents in the LIFE Academy network.
The Change Agent
Dr. P. Kanagavel is a scientist working in National Institute of Wind Energy (NIWE), formerly Centre for Wind Energy Technology (C-WET), an autonomous Research and Development institution under Ministry of New and Renewable Energy, Government of India.
He has more than 18 years of experience in various fields, of which 14 years in the field of wind energy. Presently, he is Additional Director and Head of Information, Training and Customized Services Unit of NIWE whose prime responsibilities include information dissemination, conducting national and international wind energy training courses, publications, library management and public outreach activities of NIWE.
After his training at LIFE Academy he has successfully organized 22 national and 21 international training programmes as Course Coordinator, enabling to train more than 1000 national and 400 international professionals in wind energy from 74 countries.

These training programs have a similar approach as the training provided by LIFE Academy´s Sida funded ITP program – Wind Power Development and Use (2009-2015) in which Mr. Kanagavel participated. Since then he has contributed to closing the links between participants from the programs of LIFE Academy and NIWE. He has also inspired a number of LIFE Alumni to participate in various training and research work at NIWE, thereby deepening the networks initiated by LIFE Academy.

In addition, he has published papers at national and international conferences and in Journals and delivered more than 100 lectures in various programs. He has also offered interviews in TV channels, radios and newspapers, as a part of wind energy promotion activity which is his prime motivation. He is an Associate Editor of PAVAN, a quarterly bilingual newsletter from NIWE; he has published 50 issues since 2004. He has established Prof. Anna Mani Information Centre, a well-resourced computerized library of NIWE as well as established the IT facilities at NIWE including website, internet, intranet, e-mail and e-security facilities.

We wish Dr. P. Kanagavel good luck in his continued endeavors for a sustainable development and we will report on his project as Change Agent of the Year 2016.
General about Change Agents
A Change Agent is a person, trained by LIFE Academy to act for a sustainable development in their organization and country. There are more than one thousand LIFE Academy Change Agents in 80 countries all over the world that are part of the LIFE Academy global network.
The change agents create true value for their organizations and they have their focus on making changes that are sustainable, with a holistic approach taking both the environment, social and economic issues in consideration.
In the work for our common sustainable future it is very important with role models that can inspire more people to take action for sustainable solutions. To encourage our role models, the change agents in our network, we award a Change Agent of the Year. This is the second year to select a Change Agent. Last year Ms. Fasika Minda Melese from Ethiopia was the Change Agent of the year https://life.se/news/change-agent-year-2015