LIFE Academy is proud to announce that Noy Shoung from Cambodia is Change Agent of the Year 2022. Noy has been selected for his long, persevering and focused work to contribute to sustainable development in Cambodia and internationally through a number of activities and engagements over the years. Among others he has been acting as Partner and Focal Point at "Asian and Pacific Training Centre for ICT for Development", Deputy Secretary General at "National ICT Development Authority" and Deputy Secretary General of "One Village One Product National Committee Cambodia".
As the Change Agent of the Year Shoung Noy will get 1000 US dollars to use in an activity that he chooses. The purpose is to encourage the ongoing work for sustainable development that results in true value for his country. It is also to show a good example for others to be inspired to take action for sustainable solutions – to show that it is possible to make development happen that can improve the environment and living conditions for everybody.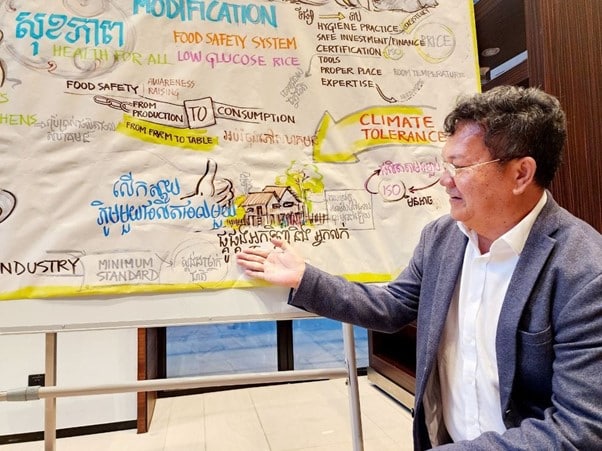 Hi Noy Shoung! Congratulations to the award, how do you feel?
I am so proud to be the selected person for this award and I am more than happy to share and donate my time, lessons learned, and experience to any people who want to get involve or benefit from this grand.
Can you tell us about your organisation?
National Committee for One Village One Product Movement (OVOP). OVOP, in contribution to the implementation of National Strategy for Poverty Reduction, is mobilizing local economic potentials of the products and services to improve the livelihood of local people and communities. OVOP works with local producers/MSMEs/SMEs, ACs and business associations to improve the quality and marketing of the local products. We also work on market access building and securing market for the local products. In addition, we liaise with other government actors and relevant stakeholders to build an enabling environment for the local products to grow. These leads to sustainable economic development in the country.
You will be awarded with USD 1 000. Do you have any idea what the money will be used for?
So far many producers are facing challenges of market access. Therefore, this grand is very important and I could use it to help them with the market access in matching between producers and buyers (Handicraft producers, micro business, SMEs). At the moment both buyers and producers complain about each others, buyers say there is no sustainable producers in their region and producers are worried that there are no potential buyers. Therefore, when they both meet they will understand and can negotiate in terms of price, quality, standard and legal comply.
You were a participant of LIFE Academy training programme on Information Technology Management (ITM) 2004. What knowledge and experiences did you bring from this programme?
I especially learned about knowledge sharing and human networking, being a human, no one is perfect, no one knows everything. That is we are human, we need to learn to share and network –how to share, how to learn, how to network. Information Communication Technology is the core amongst the three element.
What is your driving force?
My driving force is to train farmers on how to use social media for marketing, to match their product with direct buyers instead of selling through a middleman. In that way farmers can get a direct sale and therefore sell for a higher price and get more profit for themselves. I am also driven to train farmers on how to produce waste into fertilizer and to set up irrigation.
General Information about Change Agents
A Change Agent is a person, trained by LIFE Academy to act for a sustainable development in their organisation and country. There are more than one thousand LIFE Academy Change Agents in 80 countries all over the world that are part of the LIFE Academy global network.
The change agents create true value for their organisations and they have their focus on making changes that are sustainable, with a holistic approach taking both the environment, social and economic issues in consideration.
In the work for our common sustainable future it is very important with role models that can inspire more people to take action for sustainable solutions. To encourage our role models, the change agents in our network, we award a Change Agent of the Year.
Previous Change Agents of the Year:
2015 – Ms. Fasika Minde from Ethiopia
2016 – Dr. P. Kanagavel from India
2018 – Ms. Jackie Namakula from Ugana
2019 – Ms. Margaret Mutsamvi from Zimbabwe
2020 – Ms. Lucia Marroquín Mendoza from Mexico
2021 – Dr. Matthew Matimbwi from Tanzania